5 Steps to Starting a Recognition Program
Does the thought of starting a recognition program seem overwhelming? Or maybe you just don't know where to begin.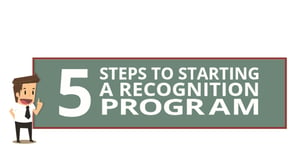 Download our guide that details the 5 steps to follow when starting a recognition program.
The five questions to ask yourself before starting the program include:
Why are you starting this program?

What is your budget?

How will you know the program is working?

What motivates your employees?

What types of awards should you have?
Complete the form below to download our guide for step-by-step instructions, and get your recognition program started.