Creating a Positive Patient Experience Through Employee Recognition
A patient's hospital visit satisfaction level is influenced by every employee that has any contact with the patient - not just the doctor.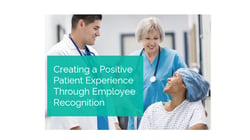 Engaged employees deliver better care. This whitepaper will highlight:
How you can increase engagement among healthcare employees

Using a recognition system to improve the patient experience
Complete the form below to download the whitepaper to learn more about creating a positive patient experience.