Breaking Free from Points
Has your company been paying employees for good behavior? After spending a lot of money on this program, has it been successful?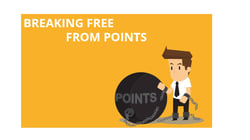 There are other more effective and measurable recognition and incentive programs.
This whitepaper discusses how to pull the plug on points including how to:
Establish key goals and performance indicators for your recognition program

Set up a mainly non-monetary program that reinforces those goals

Build a communications campaign to rebrand & re-launch program

Launch, get feedback, and refresh often
Complete the form below to download the whitepaper and help your company break free from a point system.